Reis door een land vol wonderen
Architect Willem Marinus Dudok op lezingentour door Amerika, 19 september-18 december 1953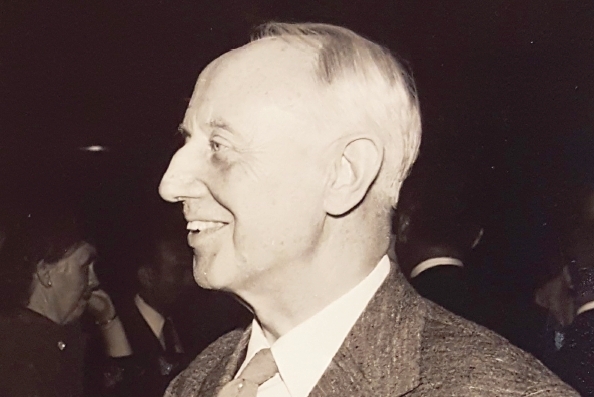 Samenvatting
In autumn 1953, at the invitation of the American Institute of Architects (AIA), Dutch architect Willem Dudok embarked on an almost three month-long lecture tour of over thirty universities in the United States of America. It was Dudok's first experience of America. An analysis of the archival material of Dudok's tour, never previously undertaken, offers starting points for a deeper consideration of Dudok's reflections on his own career as architect and urban designer, and his view of architecture and urban design in the United States. Since his earliest housing projects in Hilversum around 1920, American architects had taken an interest in Dudok's work, an interest that only increased after the completion of the Hilversum town hall in 1931. Although Dudok had received several invitations to lecture in America over the years, it only became a reality quite late in life. The programme laid out for him was an exceptionally busy one: in the course of eighty days he covered a large swathe of the eastern and central part of the United States. He lectured to architects, students and other interested parties, was invited to several receptions and dinners, and was taken on guided tours of many buildings and cities. He also stayed for a few days with Frank Lloyd Wright.
           
Immediately upon arrival Dudok was impressed by the huge skyscrapers of Manhattan, although it was the engineering that made the greatest impression on him. He did not regard them as architecture for they lacked the 'beauty of proportion and mutual harmony'.
           
Dudok had prepared two lectures for his tour, largely based on a lecture he had already given in Brussels in 1950 for the Société Belge des Urbanistes et Architectes Modernistes. He argued for a spiritual value in architecture that would be reflected in the proper structural proportions. He felt that Americans had little idea of urban design as yet, and he made frequent mention of an ugliness and chaos similar to that in Asian cities. He favoured the development of garden cities, of which Hilversum was his great example, over close-set skyscrapers. In his view, a city's beauty consisted above all of a well-judged alternation of repetition and variation in buildings.
           
For his American audiences of students and young architects, Dudok's lectures were probably their first encounter with his ideas and reflections on architecture and urban design. He illustrated his lectures with a large number of slides and impressed his audiences with the breadth of his oeuvre, which clearly consisted of much more than his world-famous town hall. After his visit, Dudok's lectures were published in the Journal of the American Institute of Architects and eighteen months later he was awarded the AIA Gold Medal, the institute's highest honour. Dudok is still the only Dutch architect to have received this accolade.
Referenties
The author has done everything in her power to trace the owners of the images. If this did not or insufficiently succeed, the owner can report to info@knob.nl.
This article is an adaptation of: 'Travel through a country full of miracles. Architect Willem Marinus Dudok on a lecture tour of America on 19 September-18 December 1953', thesis 2018 for the study Art History, track Architecture History and Monument Conservation at Utrecht University.
H.P. Berlage, Amerikaansche reisherinneringen, Rotterdam 1913, respectievelijk Le Corbusier, Quand les cathédrales étaient blanches. Voyage aux pays des timides, Parijs 1937.
R.G. Wilson, 'Willem Dudok: Modernist but not Mainstream', The AIA Journal 71 (1982) 9, 48.
H. van Bergeijk, Willem Marinus Dudok. Architect-stedebouwkundige 1884-1974, Naarden 1995, 96.
'Gold Medal', www.aia.org/awards/7046-gold-medal (geraadpleegd 3 maart 2017).
Rotterdam, Het Nieuwe Instituut, Dudok, W.M./Archief DUDO. In het kader van mijn scriptie heb ik een volledige inventarisatie gemaakt van alle correspondentie in het Dudokarchief die betrekking heeft op Amerika of gevoerd werd met Amerikanen (architecten, professoren, studenten of anderszins). Deze inventarisatie is, gerangschikt naar datum en voorzien van afzender, plaats van afzending en vindplaats in het archief, opgenomen in mijn scriptie. In dit artikel wordt verwezen naar deze correspondentie als: Corr. .
De brieven bevinden zich in het Dudokarchief onder inv.nr. DUDOd267; ze zijn genummerd I t/m VIII en beslaan de periode van 29 september t/m 5 november 1953. De brieven worden hier aangehaald als 'Brief' gevolgd door de Romeinse nummering. Het is niet zeker of deze brieven vanuit Amerika zijn verstuurd, of dat ze later (mogelijk aan de hand van aantekeningen) zijn uitgetypt. Wel blijkt uit de brieven dat Dudok ook door zijn vrouw van (familiaire) ontwikkelingen in Nederland op de hoogte werd gehouden.
Van Bergeijk 1995 (noot 4), 18.
D. Langmead, Willem Marinus Dudok, A Dutch Modernist: A Bio-Bibliography, Westport 1996, 53-218.
De stedenbouwkundigen waren deelnemers aan het in Amsterdam gehouden congres van The International Federation for Town and Country Planning and Garden Cities met ongeveer vijfhonderd afgevaardigden uit 28 landen. Berlage was een van de bestuursleden van deze vereniging van stedenbouwkundigen, die onder leiding stond van Ebenezer Howard. De gedelegeerden maakten enkele excursies waaronder een naar Hilversum, waar ze onder leiding van Dudok een aantal woningbouwprojecten bekeken; zie Internationaal Stedebouwcongres, Amsterdam 1924, deel II Verslag, Website Hathitrust Digital Library, www.hathitrust.org/ (geraadpleegd 4 december 2017), 8 en 65-66.
Een prachtige anekdote hierover is opgetekend door Suzanne B. Riess in een interview met Joseph Esherick (1914-1998), Amerikaans architect en winnaar van de AIA Gold Medal in 1989. Esherick vertelt over een reis naar Europa die hij in 1937 maakte en waarbij hij samen met een vriend in Rotterdam verbleef. Aan de piccolo van hun hotel vroeg hij hoe ze in Hilversum konden komen, omdat ze daar enkele moderne gebouwen wilden bezoeken. De reactie van de hotelbediende was de volgende, aldus Esherick: 'He got four bicycles, one for himself and one for his girlfriend, and we took off on bicycles. Hilversum's about thirty miles away, I guess. We told him what we wanted to see, so he took us around. He found all this stuff, he didn't know anything about architecture. Then we said we wanted to see the town hall. Dudok was as famous as Aalto at that time. The bellboy walks into the town hall and says, "I have some Americans and they want to see Mr. Dudok." Lo and behold, we get ushered into Dudok's office, and Dudok spoke some English, so we had an interview of about threequarters of an hour, and he showed us the model of the town hall, the future development, and everything else.' J. Esherick, 'An architectural practice in the San Francisco Bay Area, 1938-1996', oral history transcript 1996, interview door Suzanne B. Riess, Oral History Center, The Bancroft Library, University of California, Berkeley, 86. Via www.archive.org/details/eshericksfbayare00joserich (geraadpleegd 17 juli 2017).
Corr. Roudebush 22 oktober 1931.
Corr. Saarinen 22 september 1936.
Corr. Clarkson 30 oktober 1938. Harvey P. Clarkson (1914-1978) werd later president van Shreve, Lamb & Harmon Associates, de firma die in 1929-1931 het Empire State Building had gebouwd, en was van 1954 tot 1960 Associate Professor aan de Columbia University School of Architecture in New York.
Corr. Saarinen 22 september 1936; Corr. Butler 7 maart 1939; Corr. Maginnis 27 maart 1939.
Corr. Dudok 7 april 1939; Corr. Dudok 8 mei 1939.
Brief Dudok aan Wijdeveld, d.d. 18 april 1950, HNI, WIJD57-58.
H. Ibelings, Americanism. Nederlandse architectuur en het transatlantische voorbeeld, Rotterdam 1997, 17-23.
Buffington: 'These hours with you have left a lasting conviction that your place as one of the greatest Architects of modern times is secure', Corr. Buffington 9 maart 1949. Aanleiding voor Buffington om Dudok in 1949 te schrijven was de uitreiking van de AIA Gold Medal dat jaar aan Frank Lloyd Wright in Houston, Buffingtons woonplaats. 'I wish it might be an international affair with you receiving equal recognition for the wonderful work you have done […]', aldus Buffington. Vanaf 1949 tot aan Dudoks overlijden in 1974 correspondeerden beide architecten geregeld met elkaar.
Brief VII, VIII.
In een terugblik spreekt Buffington van 'correspondence with some forty schools of architecture and individual architects as Saarinen, Neutra, Mies van der Rohe and others'; Corr. Buffington 7 september 1953.
Corr. Dudok 15 juli 1950; Corr. Dudok 15 november 1951. Dudok wilde in 1950 geen reis maken, want 'in the mean time the international situation has become rather alarming: for the moment I should not care to leave my home'. Mogelijk doelde Dudok hiermee op de in juni 1950 uitgebroken Koreaanse burgeroorlog, waardoor de verhoudingen tussen het Westen en de communistische Sovjet-Unie op scherp kwamen te staan.
Corr. Walker 14 januari 1952; Corr. Walker 24 januari 1952; Corr. Walker 20 mei 1952.
Corr. Dudok 25 augustus 1953.
Brief VII.
R. Shumaker, 'There's a party side to the Octagon!' krant en datum onbekend. Bron: Collectie Dudok Stichting/Dr. H. van Bergeijk, TU Delft. In het artikel wordt Dudok bestempeld als 'The Frank Lloyd Wright of Holland'.
Brief IV. Buckminster Fuller won de AIA Gold Medal in 1970 met als toelichting 'a man responsible for the design of the strongest, lightest and most efficient means of enclosing space yet devised by men'.
Op het lezingenschema dat Dudok van het AIA had ontvangen, had hij enkele aantekeningen gemaakt. Op 24 november was hij te gast bij het Illinois Institute of Technology, en hierbij had Dudok de naam 'Mies vd Rohe' geschreven. Zijn handgeschreven aantekeningen bevatten de opmerking 'Chicago. Mies van der Rohe'. In ieder geval hebben beide architecten elkaar in 1957 ontmoet, toen zowel Dudok als Mies van der Rohe zitting had in de jury van de R.S. Reynolds Memorial Award.
Brief III, IV.
Brief VIII.
In 1926 schreef Dudok zelf over de invloed die Frank Lloyd Wright op zijn werk zou hebben gehad: 'Dat moet men echter in ieder geval niet zo opvatten, dat ik mij bewust ben door zijn vormenspraak beïnvloed te zijn: het gaat nooit om de vorm maar om de geest. [Wright] heeft ook bij mij het bewustzijn verdiept, dat architectuur de kunst van de ruimte, niet van het platte vlak is. Daarom heeft voor mij niet in de eerste plaats zijn wijze van detailleren betekenis, niet zijn geduchte overspanningen, vlakke, overstekende, haast zwevende daken, echter veel meer zijn heldere, ruimtelijke vormgeving'. Dudok in Baukunst, februari 1926, geciteerd in R. Magnée (red.), Willem M. Dudok, Amsterdam 1954, 41. Verder onder andere: H. van Bergeijk (red.), Amerikaanse dromen. Frank Lloyd Wright en Nederland, Rotterdam 2008, 9-15 en 163-173; D. Langmead en D. Johnson, Architectural excursions: Frank Lloyd Wright. Holland and Europe, Westport 2000, 72-76; A. van der Woud, 'Variaties op een thema. 20 jaar belangstelling voor Frank Lloyd Wright', in: F. Asselbergs (red.), Americana. Nederlandse architectuur 1880-1930, Amsterdam 1975, 28-40.
Brief Dudok aan Wijdeveld, d.d. 30 april 1949, HNI, WIJD55-56.
M. Rethmeier-Dudok, 'Hilversums Historie: Dudok was mijn vader', Hilversums Historisch Tijdschrift Eigen Perk 14 (1994) 41, 79.
Handgeschreven vel, HNI, DUDOd267.
Brief I.
In verschillende brieven voorafgaand aan zijn reis had hij uitgesproken vooral benieuwd te zijn naar de wolkenkrabbers.
Brief I.
Architecten Othmar Ammann en Cass Gilbert, 1927-1931.
Brief I.
Architecten: hoofdkwartier Verenigde Naties: Oscar Niemeyer, Wallace Harrison e.a.; Rockefeller Center: Raymond Hood; Lever House: Skidmore, Owings & Merrill (Gordon Bunshaft).
Brief II.
Architect: Skidmore, Owings & Merrill (Gordon Bunshaft).
Brief VII.
Architect: Matthew Nowicki.
Brief IV.
Veel indrukken die Dudok opdeed, en ook zijn conclusie dat de Amerikaanse stedenbouw behoorlijk achterliep bij die in Nederland, en tevens zijn bewondering voor bepaalde bruggen in New York en andere bouwwerken, zijn ook terug te vinden in de artikelen in de bouwtijdschriften waarin in de jaren vijftig verslag werd gedaan van Amerikareizen. Het zou interessant zijn een systematisch onderzoek naar de bestemmingen en bevindingen van (Nederlandse) Amerikareizigers uit te voeren, waardoor een beter inzicht kan ontstaan in het fenomeen Amerikareis.
Brief I.
Brief I.
In 1936 was Dudok enige tijd in Calcutta, India, geweest, waar hij ontwerpen had gemaakt voor een woonhuis en voor een bioscoop; zie Van Bergeijk 1995 (noot 4), 237 en 239. In december 1937 of januari 1938 verbleef Dudok in Ankara; handgeschreven aantekening van Dudoks vrouw '[my husband] is now staying in Ankara for business', als antwoord aan John B. Ward; Corr. Ward 10 december 1937. Ook in 1949 verbleef Dudok in Ankara; zie www.dudokinturkey.com (geraadpleegd 8 december 2017).
Brief III, resp. Brief IV.
Brief VI.
HNI, DUDOd277. Krantenberichten naar aanleiding van Dudoks bezoek: R. Heidler, 'Dutch Expert hits "lack" of planning in U.S. cities', Washington Post, 7 oktober 1953, resp. 'Look at Our Planning', datum en krant onbekend, mogelijk Dallas News.
The Knickerbocker 15 (1953) november, 12.
'I just lectured in Brussels in the French language; my subject "Town-planning and Architecture as an Expression of our Time" gave me ample opportunity of developing my conception of the right modern spirit in the architectural field. I may say that my lecture was a success and I suppose that an English translation, largely illustrated with examples of my work, would do for an eventual trip to the States.' Corr. Dudok 31 maart 1950.
Zowel de Franse als de Nederlandse tekst van de voordracht was in mei 1950 verschenen in Forum. De Nederlandse titel luidde 'Stedebouw en architectuur als uitdrukking van eigen tijd'.
W.M. Dudok, 'To Live and to Build', Journal of the American Institute of Architects (1954) maart, 101-102.
Dudok 1954 (noot 56), 102.
Dudok 1954 (noot 56), 104.
Dudok 1954 (noot 56), 102.
Dudok 1954 (noot 56), 103.
W.M. Dudok, 'Stedebouw en architectuur als uitdrukking van eigen tijd', Forum mei 1950, 160.
Van Bergeijk 1995 (noot 4), 95. Van verschillende kanten en om verschillende redenen had Dudok na de presentatie van zijn plannen in 1946 kritiek gekregen, wat geleid had tot een steeds stroever verlopende samenwerking met de betrokkenen. Voor een uitgebreide bespreking van het structuurplan en de problemen die Dudok in Den Haag ondervond, zie M. Cramer, H. van Grieken en H. Pronk, W.M. Dudok 1884-1974, Amsterdam 1981, 99-108 en Van Bergeijk 1995 (noot 4), 87-95 en 269-281.
Van Bergeijk 1995 (noot 4), 97.
Van Bergeijk 1995 (noot 4), 97.
Dudoks ontwikkelingsplan voor Zwolle diende door bezwaren van Rijkswaterstaat te worden aangepast, wat Dudok weigerde omdat naar zijn zeggen steeds van mening werd veranderd; Van Bergeijk 1995 (noot 4), 99.
W.M. Dudok, 'Town Planning', Journal of the American Institute of Architects april 1954, 155.
Dudok 1954 (noot 66), 155.
Decentralisatie was mogelijk door de moderne communicatiemiddelen als telefoon, radio en bioscoop, waardoor mensen voor het culturele leven niet meer afhankelijk waren van dichte bevolkingscentra. Ook de auto speelde hierin een belangrijke rol; Dudok 1954 (noot 66), 154.
Dudok 1954 (noot 66), 156.
Dudok 1954 (noot 66), 154.
Dudok 1954 (noot 66), 156.
Dudok 1954 (noot 66), 156.
Dudok 1954 (noot 66), 156.
Dudok 1954 (noot 66), 157.
Dudok 1954 (noot 66), 157-158.
Dudok 1954 (noot 66), 158. Voor de herkomst van zijn ideeën en de plaats van Dudok binnen de stedenbouwkundige discipline van de twintigste eeuw, zie Van Bergeijk 1995 (noot 4), 68-99.
Dudok 1950 (noot 61), 58.
'Such a complicated problem [stedenbouw] can only be solved by teamwork [...] in the last resort a single man must create the harmonious synthesis of various facets of the problem […] I am convinced that – whatever others may say – the experienced architect is the obvious town planner'; Dudok 1954 (noot 66), 153-154. Niet geheel terecht nam Dudok in zijn lezing op dat hij nooit problemen had ondervonden op het terrein van samenwerking.
De dia's die Dudok speciaal voor de tour had laten maken, zijn niet bewaard. Een handgeschreven lijstje met enkele gebouwen en ontwerpen in het Dudokarchief geeft een aanwijzing van wat Dudok mogelijk wilde of heeft laten zien. HNI, DUDO240M.154.
Corr. Bartlett 26 oktober 1953: 'It was interesting to note your buildings done in the early 1920s, which seemed to have a freshness and vigor when compared to the work done by many Architects today.'
T.H. Creighton, 'P.S.', Progressive Architecture november 1953, 238.
Dudok en Hamlin hadden elkaar een aantal malen ontmoet tijdens Dudoks lezingenreis.
T. Hamlin, 'Willem Dudok', Architectural Forum februari 1954, 150.
Hamlin 1954 (noot 83), 151.
Wilson 1982 (noot 3), 48.
Wilson 1982 (noot 3), 45.
De regels luidden dat uitsluitend de board of directors konden nomineren en stemmen en dat de stemming unaniem moest zijn. In 1936 was Dudok ook al genomineerd, maar voldeed deze eveneens niet. Dudoks nominatie in dat jaar was afkomstig van de Chairman of the Committee on Foreign Relations (Julian Clarence Levi) en niet van een boardmember. In 1954, het jaar na zijn lezingentour, werd Dudok door AIA-voorzitter Clair Ditchy genomineerd, maar was er geen unanieme stemming. Mededelingen door Nancy Hadley, Senior Manager, Archives and Records AIA, mailwisseling met auteur, d.d. 10 november 2017.
Deze nominatie kwam opnieuw van Clair Ditchy. Mededeling door Nancy Hadley, Senior Manager, Archives and Records AIA, mailwisseling met auteur, d.d. 10 november 2017.
R.G. Wilson, The AIA Gold Medal, New York 1984, 10.
De leden van de board of directors waren immers vertegenwoordigers van praktiserende architecten uit het gehele land, en geen critici, schrijvers of academici; Wilson 1984 (noot 89), 3-4.
www.aia.org (geraadpleegd 3 maart 2017).
Corr. Dudok 25 april 1955.
Corr. Buffington 23 oktober 1953; Buffington: 'I am arranging a small dinner […] with Dr. Hampton C. Robinson at the Petroleum Club. And I hope you will find a future client in the group to be there. We must have a Dudok Building in America.' Later schreef Buffington verscheidene brieven aan mogelijke opdrachtgevers, echter zonder resultaat; zie Corr. Buffington 2 december 1953, en diverse brieven van Buffington d.d 5 december 1953.
Het niet aannemen van een hem aangeboden gastdocentschap bij het MIT, naar aanleiding van zijn lezing in Boston, is in dit opzicht wellicht een gemiste kans.
Mondelinge mededeling H. van Bergeijk, 15 november 2017.
Citeerhulp
Reichardt, J. (2020). Reis door een land vol wonderen: Architect Willem Marinus Dudok op lezingentour door Amerika, 19 september-18 december 1953. Bulletin KNOB, 118(4), 1–19. https://doi.org/10.7480/knob.118.2019.4.4307
Licentie
Copyright (c) 2019 Joke Reichardt
Dit werk wordt verdeeld onder een Naamsvermelding 4.0 Internationaal licentie.