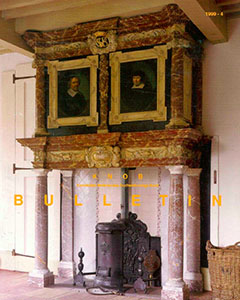 Joop van Schalk: De bouwhistorie van het Huis te Linschoten. Badeloch Noldus: De introductie van het Hollands classicisme in Zweden, aan de hand van twee woonhuizen van de familie De Geer. Carla S. Oldenburger-Ebbers: Het 'Heerehuys van Buyten Zorgh'.
Artikelen
Huis te Linschoten is situated in the Hoge Polder in the municipality of Montfoort (province of Utrecht). In 1629 the Utrecht resident Johan Strick (1583-1648) bought a farm there. In 1638 he had the private house replaced by a 'maison de campagne'. As dean of the chapter of Old Munster Strick had a seat in the Provincial Council of Utrecht and possibly he had their architect Frederick Matthijsz. van Lobbrecht make the design.

The panes bearing the coat of arms were made by Jan Gerritsz. van Bronckhorst (circa 1603-1661). Soon the stable of the farm was also replaced by a...

When the architects Jacob van Campen, Pieter Post and Philips Vingboons introduced classicism in the Dutch Republic in the thirties and forties of the seventeenth century, this architectural principle soon got anchored in the world of commissioners, architects and dilettantes. But it did not remain restricted to the latter group; due to merchants' and architects' frequent travels, Dutch classicism developed into an international design principle.

In the course of the seventeenth century various Dutch architects worked abroad or in their own studios at assignments commissioned...

In 1745 the first House of Buitenzorg was founded in the Dutch East Indies, situated at the present Bogor near Jakarta (Indonesia). Governor-General G.W. Baron van Imhoff was the commissioner. This house and its successors (after fire and earthquake) and the surrounding park are depicted on numerous drawings, prints and paintings. Little is known about the landscape gardening around the house before 1817.

Just one single drawing (1772) by Johannes Rach gives an impression of the first gardens. The garden consists of l) a formal front garden constituted by hedges; 2) a shady...