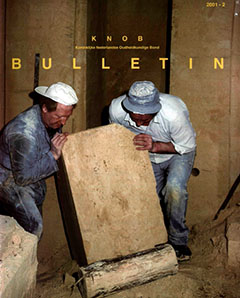 G. van Tussenbroek: Belgisch marmer in de Zuidelijke en Noordelijke Nederlanden (1500-1700). Dirk J. de Vries: Jelis Knijff en Jelis Jelissen, kistenmaker in Zwolle en beeldsnijder in Kampen.
Artikelen
In the past Belgian (non-metamorphic) marble from the Maas region was widely applied and exported to far across the borders. It concerns black, red and grey variants originating from the Carboniferous and Devonian periods. Its transport was highly dependent on waterways. Consequently, the river Maas played an important part in the export to the north.

The exploitation of black coal limestone, black marble, already took place in the early thirteenth century. In the fourteenth century the material was exported to Paris because of its purity and fine structure. Although local...

A problem is that the limited accessibility of the rich archives in Zwolle and Kampen as yet stands in the way of a reconstruction of the families of Jelis Knijff and Jelis Jelissen. It cannot even be excluded that it concerns a father and son here. Cabinetmaker Jelis Knijff became a citizen of Zwolle in 1531 and, just as Colijn de Nole, got involved in a fight with mr. Vrerick in 1543.

This mr. Vrerick worked at the benches for the new council chamber in Kampen, while Colijn de Nole was making the famous fireplace in his Utrecht workshop. Mr. Vrerick experienced the presence of...