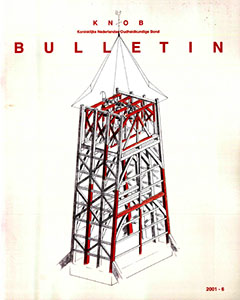 Wijnand Bloemink: De klokkentoren op het kerkhof. Bouwhistorisch onderzoek van de restanten van een laat-middeleeuwse klokkentoren bij de N.H. Kerk in 's-Heerenberg. Wies van Leeuwen: Het Rijksmuseum, van romantische illusie tot museum met toekomst.
Artikelen
In the year 2000 the Dutch Reformed church in 's-Heerenberg was restored, notably the roof of the church was in a bad condition. This opportunity was seized to document various parts of the building, particularly focused on the remains of a large wooden bell tower once standing next to the church. When it was demolished in 1821 much of the old timber was used to hang the bells in the church attic.

's-Heerenberg is a small town in the east of the Netherlands, situated close to the large mediaeval castle Huis Bergh. In 1259 the count Van den Bergh founded a chapel in the place of...

Since the opening in 1885 the Amsterdam Rijksmuseum has been a controversial building. Externally it was preserved in the form designed by P.J.H. Cuypers, internally it has become a confusing labyrinth since around 1920 and even more so since 1950. Externally, in sculptures, reliëfs and tile tableaux it radiates the late nineteenth-century artistic vision.

Internally too, there was an extensive iconographic programme, which critics chiefly regarded as a moralistic and pedantic plea for the elevation of the people. This interior, though it must have been lighter and brighter in...