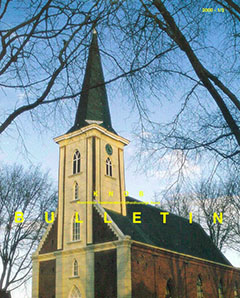 F.A.C. Haans: De hervormde kerk te Britsum. Een verzwegen kerk onderzocht en gewaardeerd. E.S. Klinkenberg: De middeleeuwse schilderingen in de N.H. Kerk te Britsum. H.H.J. Kurvers: Technische aspecten van de schilderingen. F.J. van der Waard: Het interieur van de N.H. Kerk te Britsum.
Artikelen
The Dutch Reformed church of Britsum is situated at the highest point of the characteristic Frisian terp village Britsum, some 12 kilometres to the north of Leeuwarden. The village of Britsum occurs early on in history as 'Bruggenheim' in the property registers of the abbey of Fulda. As the source material of the church is scarce, we will have to rely on research of the building itself tor the reconstruction of its building history.

The church is of the hall-church type, as customary for Frisian village churches, with as special element the reduced western block, consisting of a...

Between March 1998 and December 1999 decorative and figurative mural and vaultal paintings were exposed and restored in the Dutch Reformed church at Britsum. The decorative paintings were applied on the ribs of the vault, the transverse arches and around the figurative representations.

They are geometric patterns and some 'candelabra'. Parallels are to be found in churches in Westphalia painted under Westphalian influence at the end of the twelfth and in the first half of the thirteenth century. So far the figurative paintings only emerged in the zone directly below the vaults,...

On a coat of plastering containing large pieces of broken shells a thick coat of lime was also applied with a brush. Construction lines were scratched in this not quite solidified preparatory coat here and there, probably with a wooden peg, and sometimes lines of charcoal are also visible. The colour blue is absent in the mural paintings, but it is present in the Madonna painting on the vault of the nave. Seventeen samples were taken to analyze the composition of layers and the pigments.

A range of earth paints were found, but also the synthetic inorganic pigment yellow massicot,...

Until its restoration the church at Britsum held two canopied, oak wood Lord's seats: one from the middle of the 17th century belonging to the Burmania family opposite the pulpit from 1667 also donated by this family. Around 1700 the Lord's seat was made for the Van Wyckel family. The original position of this seat is not clear; its transfer is probably connected with its purchase by the church wardens in 1825, when the oak-wood was also painted.

The seats are in line with the reformational, whitewashed furnishing of the church and are related to the powerful owners of manors no...