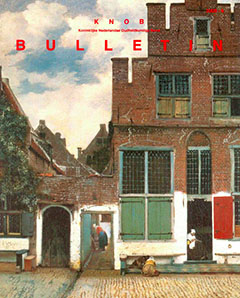 R. Meischke: Beschouwingen rond de huizencollectie van de Vereniging Hendrick de Keyser. Sanne Alberts: Oudegracht 288 in Utrecht: de groei van een middeleeuws koopmanshuis. Kees Kaldenbach: Het Straatje van Johannes Vermeer: Nieuwe Langendijk 22-26? Een kunsthistorische visie op een archeologisch en bouwhistorisch onderzoek.
Artikelen
The private Hendrick de Keyser Association, founded in 1918, now owns approximately 350 premises on the basis of which further study of the Dutch dwelling is possible. Research was not the object of the Association; its main concern was to save the premises by acquisition, restoration and responsible management. In the first decade the Association acquired 62 premises, which were restored in an austere manner. In 1928 all the houses appeared full-page in a memorial book containing 14 different contributions: Oud-Hollandse bouwkunst en haar behoud. In 1939 the Association owned...

In 1996 a building-historical study was made of Oudegracht 288. The present building mass was created in three phases. The oldest, one-layer brick phase was dated in approximately 1325, because of the combination of composite joisting and an attic without parapet. No traces of a kitchen fireplace dating from this phase were found, so that it is assumed that a wooden rear annex belonged to it.

In the second phase, roughly around 1400, a cellar is added under the front part of the house, probably with a wharf cellar and the house is provided with a truss roof with parapet. The rear...

Remarkably little has been written about the popular yet unassuming painting The Little Street (Rijksmuseum, Amsterdam). This painting shows a group of houses in Delft. The large house at the right hand side is analyzed in great detail and yields precise architectural information. The building just escaped the great Delft fire of 1536 (ill. 10). The facade of this house had a wooden structure. The masonry is well observed as is the pattern of cracks in the walls, which could not have been known to a layman. The gutter leading water across the street towards us indicates that the...