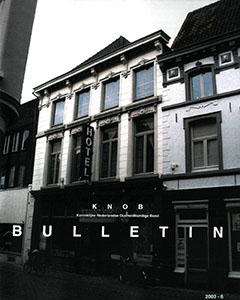 J.L.C. Weyts: De restauratie van het Huis Henegouwen, Fortuinstraat 14 te Bergen op Zoom. Rosa Zaccagnini-Visser: Het Abdijcomplex te Middelburg architectonisch bedrog? M.S. Verweij: De aanstaande restauratie van de Moerputtenbrug (1882-1885), kunstwerk in de voormalige Langstraatspoorlijn.
Artikelen
Huis Henegouwen, later called Fortuijn, gave its name to the street on which it is situated, one of the most important business streets of Bergen op Zoom. The house was burnt down in the fire of 1397, but wall material has been reused, as brick formats and burning marks show.

The author examines the type of ownership of the adjoining premises, property and alleys. The present premises consist of a medieval front and back part of the house with a partially built-over open hallway on the south side of it. Lamp niches in the cellar walls of the back part of the house and two...

As regards scale and history the Abbey of Middelburg is one of the most important monuments in the Netherlands. The powerful Abbey, founded in the twelfth century, lost its religious function in the sixteenth century, after which the Court of the province of Zeeland found accommodation here.

In the course of time the architectural situation of the complex deteriorated, also because it was used for an increasing variety of purposes.
 Due to the efforts of Victor de Stuers the complex was restored around the turn of last century, an extensive and ambitious project, which was very...

In the period 1875-1890 the Langstraat railway was constructed in North Brabant. The railway line formed the east-west connection between 's-Hertogenbosch and Lage Zwaluwe and ran through the Langstraat, traditionally the region where the leather and shoe industry was concentrated.

People had high economic expectations for the Langstraat railway, but they did not come true. The 46.5-kilometer-long railway remained a provincial enterprise. Although the intention was to construct a double track, only a single track was realised. As a result it was nicknamed: 'Halve Zolenlijntje'...