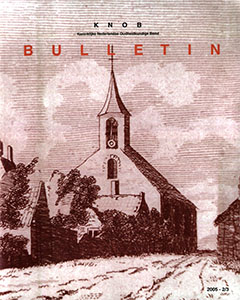 H. Hundertmark: De lappendeken van Limmen. Een bouwhistorisch onderzoek naar de bouwgeschiedenis van de Nederlands Hervormde kerk te Limmen. Dieter Nuytten: Bouwhistorisch onderzoek van de voormalige abdijschuur van Ter Doest. H. Uil en J.L.C. Weyts: Het Huis de Haene, Meelstraat 1 te Zierikzee.
Artikelen
The earliest mention of the church of Limmen already dates from the 9th/10th century. In 1108 bishop Burchard of Utrecht grants the church to the chapter of St. Mary of Utrecht. It is supposed that around this period the wooden building was replaced by a hall-church built of tuff. An important part of the tufa western façade of this period has been preserved.

In about 1200 a brick tower was built against this facade. This tower used this partially leveled down church façade as its 4th wall. The tower was built in the transition period when the use of tuff was abandoned and replaced...

For building historians the shed of the former Cistercian monastery Ter Doest, founded in 1174, has acquired the status of a place of pilgrimage. In Flanders there is not much evidence left of the agricultural land area of this monastic order. After having flourished during the Middle Ages, gradual decay followed for Ter Doest as well.

The dilapidated abbey buildings were eventually reused as building material. The shed survived because it was used for the further exploitation of the farm. The building has a rectangular ground plan of approximately 54 metres long and 20 metres...

In the fifteenth century the house 'de Haene' was built in the commercial town of Zierikzee, later incorrectly known as the 'Tempelierenhuis' (house of the Knights Templar). Not many written sources have been preserved. The house remained in private hands for a long time: in the second half of the 18th century it was owned by a plumber, later by a coppersmith.

The present, still existing division of the house into two parts dates a long way back. Serious decay led to gradual repairs, accompanied with a lot of problems. First as the local authority, later as the owner, the...