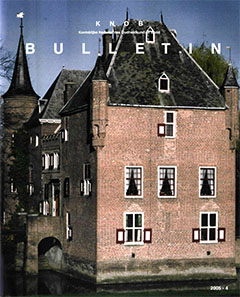 Toelichting op het themanummer kastelen en landhuizen (Dirk J. de Vries). Taco Hermans en Edwin Orsel: Het kasteel Onsenoort. Taco Hermans, Edwin Orsel en Elly van Soelen: Het Slot Well of het Huis van Malsen. R. Meischke en H.J. Zantkuijl: De wederopbouw van kastelen en buitenhuizen na circa 1600; met centraal het Huis te Capelle bij Rotterdam.
Artikelen
Onsenoort is a good example of a late 14th-century tower block. The tower was rebuilt in 1388 by Jan Kuyst Arent Dirkszn, Hegeman of Albrecht van Beieren, governor of the count of Holland, to replace a destroyed predecessor.

Initially, unlike most towers from the 13th century, Onsenoort is not a high tower with relatively thin walls, but low (just a cellar and a ground floor) with thick walls and consequently clearly intended for the function of military bulwark. In view of its situation in the borderland between the provinces of Brabant and Holland this is not surprising.

...

The castle of Well in the province of Gelderland probably originated in the early 14th century from a small brick residential tower situated on a castle island surrounded by a moat, possibly with a palisaded front area on the west side of the island. Apart from the fact that there is a rectangular cellar with light- or shooting chases, a water well and an entrance on the west side, there is not much to be said with any certainty about this phase.

It is likely that the in the course of time the residential tower was extended on one side possibly with a walled-in courtyard with a...

In the beginning of the Dutch war of independence (1568-1648) it was particularly the countryside that suffered. When around 1590 many towns had obtained a new confirmation, the attention for architecture revived again (ill. 1-5). The ornamental roof played an important part in this.

It originated in around 1550 by a clear separation between roof and facade by means of a gutter board. The place of the chimney was also given more attention. For a long time building in the countryside proceeded cautiously, in small parts. Consequently, the reconstruction of country houses was not a...