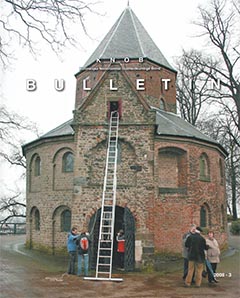 Charlotte J.C. Broer en Mart W.J. de Bruijn: De tiende-eeuwse Heilig-Kruiskapel in Utrecht en haar relatie met Willibrord. Barbara Perlich en Gabri van Tussenbroek: De Valkhofkapel te Nijmegen. Nieuwe gegevens over de middeleeuwse bouwgeschiedenis. Zeno Kolks en Ben Kooij: De kerk van de Allerheiligste Drie-eenheid in Oldenzaal, bekroning op het omvangrijke oeuvre van architect Walter te Riele.
Artikelen
For centuries the Holy-Cross chapel (Heilig-Kruiskapel) stood between St Martin's cathedral church (domkerk or Sint-Maartenskerk) and St Saviour or Oldminster church (Sint-Salvatorkerk or Oudmunsterkerk) in Utrecht. In medieval historiography this cruciform little building was regarded as a church founded by the Anglo-Saxon missionary Willibrord at the end of the eighth century and devoted to the Holy Cross. According to the oldest historiography this church was situated next to St Martin's church that Willibrord had built on the foundations of an older church.

The round St. Nicolas Chapel on the Valkhof in the city of Nijmegen is one of the oldest buildings in the Netherlands. Since the beginning of the 19th century the building has been subject to research and discussion. The current research project has shown that the chapel was originally built before the demolition of the Valkhof in the year 1047. Mortar analysis has clearly provided the division between the parts dating from the 11th and 12th centuries. Elements like the joints, cubical capitals, groined vaults and wall structure indicate that the first chapel was built...

Wolter te Riele Gzn. was born in Deventer on 8 September 1867. He was the son of the architect - initially carpenter - Gerhardus te Riele Wzn. (1833-1911). The Te Rieles descended from a family of Deventer carpenters. Wolter received his training at his father's, with whom he collaborated until 1902 at the St Lucas school in Gent, Belgium (1886-1889) and at the famous church builder's P.J.H. Cuypers (1889).

In the early 20th century he established himself as an independent architect in Deventer, where he stayed until 1912. From 1912 to 1918 he had...