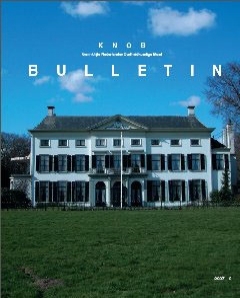 Merlijn Hurx: De zeventiende-eeuwse modernisering van het stadhuis van 's-Hertogenbosch. Karianne Vozza-Vandenbroucke: De geschiedenis van een herenhuis te Beverwijk. Catharina van Groningen en Frieda Heijkoop Vollenhoven: Het ontstaan van een lusthof op de Utrechtse Heuvelrug in de eerste helft van de negentiende eeuw.
Artikelen
In this article the 17th-century modernisation of the town hall of ' s -Hertogenbosch is explored. The central question is how fundamental the transformation of the medieval town hall was. The major part of the conversion was the new natural stone facade. This façade, designed by Pieter Minne and Dirk van der Lith, follows a scheme going back to the type of the Italian villa. It is not clear whether the architects actually reverted to the Italian tracts.

For practical reasons the proportions of the facade deviate from the Standard rules. but nevertheless the facade is not at all...

The house Breestraat 101 is situated on the main (shopping) street of Beverwijk and has nevertheless retained the character of a stately 18th-century residence. Traditionally this is a market street, a transshipment site parallel to the shore of the once nearby Wijkermeer. On deep, narrow plots houses with gables were situated here in the 17th century, as can be seen on maps from that period. The present wide premises consists of two plots/houses of which the structure is still recognizable by the double hallway and a cellar with mezzanine room. Lourens Johannes Stelt (1736-1784) was...

Vollenhoven in De Bilt is one of the country estates that earned the region between Utrecht and Wageningen the name 'Stichtse Lustwarande' (pleasure grounds). The country estate consists of a distinguished residence, a landscape park with various ancillary buildings such as an orangery, a coach house and an ice house, the house of the master carpenter, as well as a very beautiful vegetable garden with glasshouses.

Vollenhoven has had a long series of proprietors; it seldom remained in one and the same family for longer than one generation. As many of the proprietors contributed...