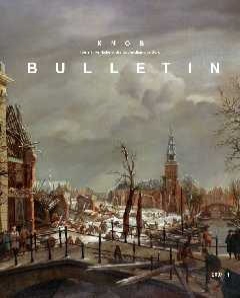 Dirk J. de Vries: Rake klappen in kappen. Edwin Orsel: Een fraij gesicht, het Leidse huis in de 17e eeuw. Een poging tot typologiesering. Edwin Orsel: Het leemstucplafond van Rapenburg 65 te Leiden nader beschouwd. Henk van de Schoor: Gebouwen van posterijen, telegrafie en telefonie in Leiden.
Artikelen
As 'lids' on monuments, timber roofs are particularly sensitive to what took place in the surroundings of or within the building itself. Calamities such as collapse, town fires, explosions, war, bolts of lightning and storms can be visible in the woodwork.

We have followed such effects in three towns: Leiden where the church tower collapsed in 1512. Zwolle where the tall spire of St Michael's church was struck by lighting as often as three times, as the church roofs show, and Roermond where we used church buildings as parameters for establishing the scale of a town fire in 1665 of...

From recent systematic building-historical research in the town of Leiden a frequently applied type of house emerged. This type of house appears to have been applied in the 17th century, but seems to have been introduced in the period of peace and prosperity after the relief of Leiden in 1574. The type has a characteristic design and plan.

The plan consists of a deep front part of the house with a separate rear part of the house or a rear extension. The plan has a specific layout and particularly on the ground floor a logical use of space is to be seen, related to daylight access....

A recent restoration presented the opportunity for further research into the loam stucco ceiling of Rapenburg 65. In all probability this ceiling was realized by stucco worker Craeckenborch directly after 1623, when Matthias van Overbeke bought the building and had it almost completely rebuilt. The affinity this ceiling demonstrates with East-Netherlands and German ceilings is to be explained by the Cologne background of Van Overbeke.

The ceiling appears to be an inextricable part of the construction of the building. The construction consists of pinewood joisting of secondary and...

In Leiden the Post Office had already been accommodated in a building on Breestraat since the 18th century. When in 1859 the telegraph service was established in Leiden, the service was successively accommodated in various existing premises. In 1889 the service was housed in the premises to the right of the Post Office.

Through an exchange with the parcel post department in 1895 the telegraph service obtained a fixed location on Bloemmarkt for the subsequent twenty years. The introduction of the public telephone service in the Netherlands in 1881 was the result of private...