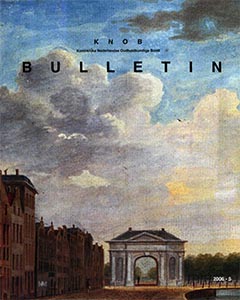 Geert Medema: Pronken op de ongunstigste locatie van de stad: de Delftse poort te Rotterdam. Carry Coppée: Jan Mast, een Utrechtse beeldhouwer van grafmonumenten in de achttiende eeuw.
Artikelen
Since 1762 the town council of Rotterdam investigated the possibility for new construction of the Delftse Poort. The gate formed an important entrance to the prosperous and sovereign town. Furthermore, the gate was used to check incoming and outgoing traffic and for the collection of municipal levies. The town council did not only pay much attention to the architecture of the building, but also to the location of the gate in the urban space. The visibility of the building within and outside the town played a significant part in this. This representative requirement had to be balanced...

Until now, not much was known about Jan Mast, an eighteenth century sculptor from Utrecht. He left four signed funerary monuments in marble, two in the church of Wijhe (province of Overijssel), one in Tiel and one in Houten. Apart from these, a wooden Justice statue by him exists, which is now in the Centraal Museum in Utrecht. Jan Mast is to be regarded as a successor of seventeenth-century sculptors, such as Artus Quellinus, Rombout Verhulst and Bartholomeus Eggers. He often used the same imagery in the mourning symbolism on the funerary monuments. However, in the eighteenth century...