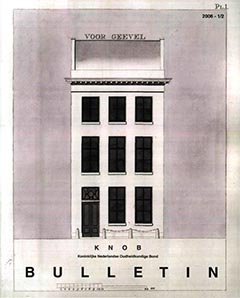 Dirk J. de Vries: Ambachtelijk metselwerk. R. Meischke en H.J. Zantkuijl: Een tekenboekje uit 1812 en I9de-eeuwse huisplattegronden. Sabine Ticheloven: De koepelgevangenissen van J.F. Metzelaar (1886). Een onderzoek naar de herkomst van de ronde vorm. Rosa Visser-Zaccagnini: Een Hollands paleis in Limburg.
Artikelen
In the middle ages and the subsequent period a range of possibilities existed to give brickwork a special finishing. This was also possible because the 'finishing phase' took considerably longer than became customary more recently through the application of Portland cement. It is remarkable that certain miniscule effects in relation to the surface of medieval brickwork occurred in North and South Europe simultaneously; people knew what was going on in the world, despite the fact that the production of brick was a local affair.

In working with brick clamps a direct relation...

Een tekenboekje uit 1812 en 19de-eeuwse huisplattegronden The 'drawing book' from 1812 was compiled by the building contractor and architect Johannes van Straaten (1781-1856). He exerted himself for the education of young building engineers. The booklet provided training in contract drawing, which concerned the very precise drawings belonging to building specifications. As examples Van Straaten designed a few modern houses. Since not much was built in those days, these examples are important. The booklet contains two kinds of examples, the first being a group of four civilian houses, the...

When the first Dutch Criminal Code was introduced in 1886, cellular imprisonment, during five years at most, was adopted as the Standard form of detention. The lack of cells resulting from it was solved by the building of three new cellular prisons, including the two identical buildings in Arnhem and Breda. These were built by J.F. Metzelaar (1818-1897), who from 1870 was employed at the Dutch Ministry of Justice as 'Engineer-Architect for prisons and court houses'. Unlike frequently assumed, the striking round form of these prisons was not so much inspired by the eighteenth-century...

 

On 1 January 1924 the Rotterdam engineer Gustavus Cornelis (Kees) Bremer (1880-1949) was appointed as head of the unified Government Buildings Agency, with the title of chief government architect. Within Dutch modern architecture Bremer acted as a link between the architecture of H.R Berlage and of J.J.P. Oud by means of a powerful and monumental form language. The new 'Gouvernementsgebouw' (government building) in Maastricht is one of his major designs. The total work took approximately five years, from January 1930 to 1 July 1935, the date of the official opening.

...