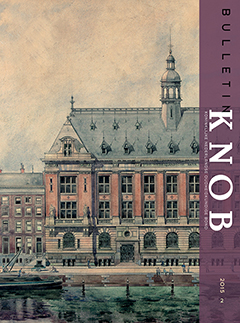 Clé Lesger: 'Waar het volk is, is de nering'. Bewinkelingspatroon en winkelarchitectuur in Amsterdam, circa 1550-1850 Sara Stroux: 'Kein ästhetisches Heil, außer im Alterswert?' Over het actuele Duitse reconstructiedebat Gert Eijkelboom: Een werkelijk monumentale gevel. De prijsvraag voor de uitbreiding van het hoofdkantoor van De Nederlandsche Bank aan de Oude Turfmarkt in Amsterdam (1915-1916).
Artikelen
This essay provides an overview of the evolution of the location and appearance of Amsterdam shops in the period from around 1550 to 1850. With the aid of a new technique (Space Syntax Analysis) it has been established that shops selling luxury goods were located in highly accessible areas within the Amsterdam street network. In practice this meant in the vicinity of Dam Square, the old riverbanks either side of the River Amstel, and along the radial streets running from the city gates and outlying districts into the city centre. Because the street pattern of the early modern part of...

The cultural heritage institutions in the Netherlands have traditionally taken a dim view of the reconstruction of heritage buildings when most or all of the material substance has been lost. Recent discussions about, for example, the listed status of the reconstructed mill at Burum (destroyed by fire in 2012) or the possible reconstruction of the nineteenth-century attic of Artis's Ledenlokalen (damaged during World War II) illustrate that the guiding principles of the institutional heritage sector do not seem to meet the actual challenges arising from the quest for reconstruction....

In September 1915, De Nederlandsche Bank (DNB) held an invited design competition for a new building beside the bank's existing headquarters on Oude Turfmarkt in Amsterdam. The Dutch central bank had grown so much since its founding in 1814 that expansion was unavoidable. Five architects – E. Cuypers, A.D.N. van Gendt, F.W.M. Poggenbeek, C.B. Posthumus Meyjes and J.A.G. van der Steur – were invited to submit plans. How the bank arrived at this choice of architects is unknown; in a report to the commissioners, the board stated that they had chosen five architects with a...