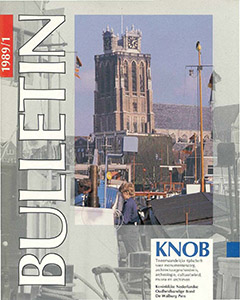 F.W. van Voorden: Change and heritage in Indonesian cities. A. van der Woud: Een monumentale toekomst. F.W. van Voorden: Het ware karakter van Dordrecht. M.E. Stades-Vischer: De Grote of Onze Lieve Vrouwekerk te Dordrecht. M.E. Stades-Vischer: Het Stadhuis van Dordrecht. J. Bruintjes: Theo van Doesburg, pleitbezorger voor een beeldende architectuur. Th.M. Elsing: Musea anno 1990, veilig en zelfstandig?
Artikelen
The Church of Our Lady at Dordrecht, one of the largest Dutch churches with a length of 106 m, is a three-aisled cross-basilica with side and radiating chapels, a tower on the west side and a large Maria chapel on the northern side of the choir. As can be read in the irregularities of the plan and in the differences of elevation and construction its building was determined by several phases. Records and the discovery of al large format bricks in the substructure of the Maria-choir were reason to date this church as built in the 12th and I3th centuries. The charter with mention of a...

Although the exterior of the Townhall at Dordrecht looks like a neoclassicist building of the 19th century, behind the facade one can find the masonry of a large medieval trade center. This old Clothhall has been built between 1383 and 1387/88 for the Flemish tradesmen, who moved to the City of Dordrecht. The situation of this building, erected on the water, represents a remarkable and even unique aspect for Holland. One can suppose, that already at the end of the 14th century the space in the interior of the town was not sufficient anymore for the need of large and representative...

The scientific interest in the Dutch artist Theo van Doesburg (1883-1931), member of De Stijl, starts in 1974. Till now in general Van Doesburg's importance as a critical writer about new developments in the plastic arts was stressed, while his architectural oeuvre has been neglected. The exposition of his architectural drawings in Museum Boymans van Beuningen and the gathering of Van Doesburg's articles about foreign contemporary architecture by Cees Boekraad both form a first and thorough acquaintance with this work.

Van Doesburg's first contributions to architecture (1916-17),...