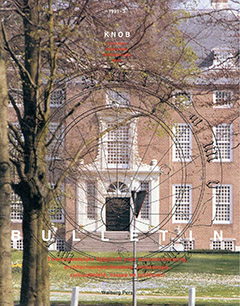 C.S. Oldenburger-Ebbers: De tuinarchitectuur van Johann Georg Michael (1738-1800). Eugène L.H. Roebroeck: Interpretatie van Zonnewijzerfragmenten. Hans Renes: Oude visvijvers in Zuid-Limburg.
Artikelen
J.G. Michael, who served the Prince of Waldeck at Residenz Arolsen as Hofgärtner from 1740 to 1778, taught his son Johann Georg Michael (1738-1800) the trade of gardener. Jacob Boreel Jansz., owner of the Dutch country seat Beeckesteyn at Velsen, kept up commercial relations with the principality of Waldeck-Pyrmont.

In the early sixties of the 18th century he brought young Johann Georg Michael from Arolsen to Beeckesteyn to work for him on his country seat.  As envoy extraordinary at the English court (1761-62) Boreel recommended Michael to go to England to study...

This paper reaches after a framework to determination of patterns of hourlines on sundials on the basis of a complete, but broken sundial and a small fragment of another one, called Enthinge nr. 25 and nr. 16, after the manorial estate these sundials were excavated. Because of their unevenness fragments of slate sundials usually cannot be handled accurately.

Reconstruction runs best with prints and transfer paper. When gnomic facts are missing, the auxiliary line, scratched in at the sundial's manufacture can help at determination. The hour-lines meet at the...

Very little research has been done on old fishponds in the Netherlands. The first part of this article reviews the literature on the subject, set against the background of international literature. In the Middle Ages the number of ponds must have been considerable, but in the greater part of the country very few remains. In the 19th century pond-culture still had some importance only in the southernmost part of the country, the hilly southern part of the province of Limburg.

The second part presents a survey of fishponds in the region of South Limburg in the first half of the...