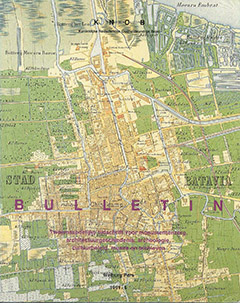 Ronald Gill: Jakarta's Urban Heritage, herstel van het stedelijk geheugen van Kota. Hannedea C. van Nederveen Meerkerk: Fortificaties in Hollantsch Brasil.
Artikelen
If guide-lines for re-planning stay out, the structure and form of Old Batavia will be wiped out for good. At present an ambitious project of the Indonesian and Dutch ministries to the reorganization of Jakarta's northern border compares the meaning of Kota as a historic nucleus with her value to Jakarta the metropolis.

The urban heritage research divides the old town into parcels and lots. The historic features of these parcels and fragments of buildings, the present morphological characteristic and functional potencies of buildings and urban space to renewal and urban function...

To study the past, military buildings are as good a historic source as churches. Both types of architecture have been engineered a more permanent material than most of the contemporary houses. Thus to the colonial-historian fortifications possess a wealth of material on the history of military science, the history of architecture, on style and social economic history.

After the Dutch invaded Pernambuco in february 1630 they adapted the Portuguese fortifications and started to build new forts to consolidate the acquired possessions. Available plans of these forts demonstrate well...