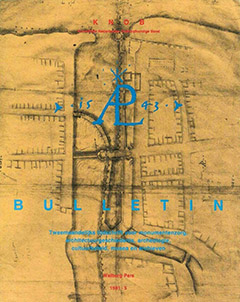 Theo van Mierlo: Alexander Pasqualini (1493-1559), architect en vestingbouwkundige. Victor M. Schmidt en Mark Gudwin: De zogenaamde bisschopszetel in de Cunerakerk te Rhenen.
Artikelen
The Italian Alexander Pasqualini, as artillery master in the service of the Lords of Egmond from about 1531 and as an architect in the service of the Duke of Gulik, Kleef and Berg, introduced early Renaissance architecture in the Low Countries. Pasqualini, born at Bologna on the 5th of May 1493 was trained an architect and fortress engineer at Rome in an environment dominated by famous Renaissance architects.

After the capture and plundering of Rome in 1527 by the army of Charles V many Italian artists and architects settled in European courts. Developments in offensive weapons...

The subject of this article is a piece of Renaissance furniture in the (at present Dutch Reformed) church of St. Cunera at Rhenen. The design and details show this furniture to be a companion piece to the choir-stalls that are still in situ. The stalls are dated 1570 and probably were made in the city of Utrecht.

The nowadays saet stands in the southern transept, but obviously that was not its original position. It is usually referred to as the 'so-called bishop's throne', but it is unlikely that the seat ever had that function. There are no grounds to assume that a...