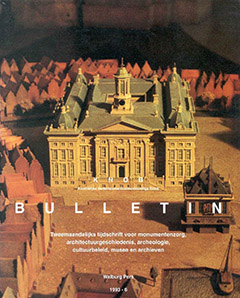 T.H. von der Dunk: De Amsterdamse stadhuisplannen uit de jaren voor 1648. B.A.M. Rijsbergen: Giudici's 'ontwerp tot vergrooting der stadt Assen'.
Artikelen
Before building on the Amsterdam Town Hall was started in 1648 in accordance with the design of Jacob van Campen, a whole range of different plans had been manufactured for at least eight years. Eight of these plans, of divergent character, are now known. In one case just a rough draft of a ground plan has come down to us, in a second case a carefully worked out facade, in a third a completely elaborated design.

Some were made by Van Campen himself, others by the architect Philip Vingboons, one possibly by Cornelis Danckerts de Ry, and several of them anonymous, the author still...

In 1809 the village of Assen was granted the rank of town by king Louis Napoleon. The architect Jan Giudici (1746-1819) was commissioned to make an urban-development plan for Assen. All this was part of Louis's aspirations to give an economic incentive to the regions in the country which were lagging behind. Assen was to become a junction of roads and waterways.

In the town plan designed by Giudici hardly anything of the old village of Assen was left. Important elements in the plan were the central square, on which major buildings were situated, the harbour and the royal palace...