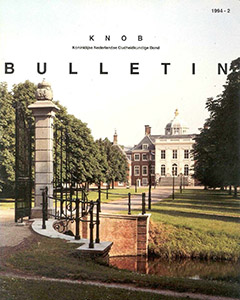 H. Sarfatij: Het huis Scharlaken te Dordrecht: de oudste Lakenhal van de stad, vervolgens woonhuis en Waag (13de-16de eeuw). Archeologie en geschiedenis van een opmerkelijk huis. Karl Kiem: Die Waage von Deventer (1528) als Handelshalle. Reactie van N. Herweijer. K.A. Ottenheym en F.H. Schmidt: 'un dessein qui plait a la vue'. De controverse tussen Anthonie Coulon en Daniel Marot bij de verbouwing van Huis Ten Bosch.
Artikelen
In 1986/87 Scharlaken House was excavated by the 'Rijksdienst voor het Oudheidkundig Bodemonderzoek / ROB' (State Service for Archaeological Investigations). The excavation was part of a large and lengthy town-archaeological research in the town centre of Dordrecht. The house was situated along Wijnstraat, which is the westward one of the two old main streets on either side of the central Voorstraatshaven along which the medieval town originated.

From the excavation it became evident that the house in its oldest phase was built around 1225. It was a very large brick building (9 x...

In 1733-'36 the Prince of Orange had the 'Huis Ten Bosch' (House Ten Bosch) near The Hague modernized and extended with two wings. The design for this was made by Daniel Marot and the architectural management of its execution was performed by Anthonie Coulon. Some documents which had been unknown so far, have revealed a controversy taking place during construction in 1734 between the designer Marot, the works foreman Coulon and the representative of the Prince, councillor Duncan. The chiefly oral contact between the commissioner and his architect seems to have been an important cause of...

The incorporation of functional details of a building in relation to the art-historical and architectural-historical approach may lead to surprisingly new insights. The 'Waag' (Weighhouse) in Deventer is a good example of this. For centuries people have been amazed at its extraordinary size and its rich building forms in comparison with other representatives of this architectural type. In connection with this, certain similarities with town halls and commercial halls were already observed on the basis of external characteristics, however, the comparison was not pursued any further.

...