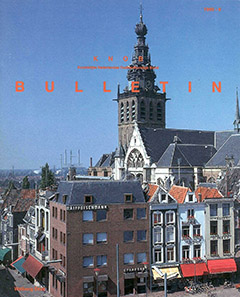 Jeroen Goudeau: Nicolaus Goldmann (1611-1665) en de praktijk van de studeerkamer. F.W. van Voorden: Onbewoonde en bewoonde huizen. Functieveranderingen in de Nijmeegse binnenstad tussen 1860 en 1910.
Artikelen
In the middle of the seventeenth century Nicolaus Goldmann (1611-1665), who worked in Leyden as a private tutor of mathematics and architecture, published five books about architectural sciences. Two of these deal with fortification, one shows a mathematical design-instrument: the sector, another shows his own invention: an instrument for correctly designed columns.

His fifth booklet gives a proposal for a true Vitruvian ionic scroll (part of the ionic capital). He designed a comprehensive measuring and design system for civil architecture. He worked in line with the scientific...

The article deals with the functions developing in and from private houses during the period when the physical decay of the town centre was becoming manifest. Nijmegen serves as an example because uniform sources of building inspection authorities are available. The irreversible process of decay in the twentieth century, resulting in large-scale demolition during the sixties and seventies, made research into the initial phase of the declining residential function desirable

Around 1880 only 1,2% of the built-up area in the town centre of Nijmegen had no residential function (total...