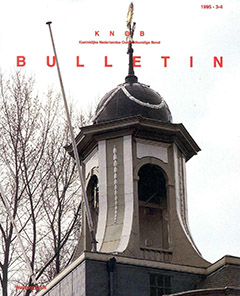 Karel Emmens: Het Doxaal in de Sint-Joriskerk te Amersfoort. Thomas H. von der Dunk: Vier ingenieurs als stadsbouwmeester.
Artikelen
Although many churches once had rood-lofts, only few survive. One of the finest examples in the Netherlands is the late-gothic rood-loft in the church of Saint-George's at Amersfoort. It is situated in front of the choir separating the sanctuary of the chapter, which was founded in 1337, from the lay-church.

The eastern part of the hall church, where the laymen had their altars and sermons, was completed about 1390, as was the western part of the choir - only in 1425 the chevet was finished. The architectural framework of the rood gallery is overgrown by leaves of stone. The fine...

In the second half of the eighteenth century a number of important developments took place in Dutch architecture, resulting in the rise of austere Neoclassicism at the expense of flamboyant rococo. The ornamental Louis XV style made way for the architectonic Louis XVI style. The aim was to link up more closely with the Dutch Classicism of Pieter Post and Jacob van Campen again, as practised during the heyday of the Republic.

The Amsterdam 'stadsfabriekambt' (public works), which was thoroughly reorganized on the initiative of mayor Pieter Rendorp in 1746, played an important part...