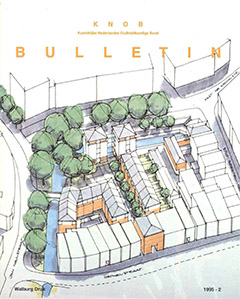 J.B.A. Terlingen en G.M.J. Engelbregt: Herbouwd verleden. C.L. Temminck Groll: Maquette en Computersimulatie. A. van Drunen: Bouwblokinventarisaties ter bescherming van het stedebouwkundig monument. Een analyse van de historische structuur van 's-Hertogenbosch.
Artikelen
In this article the authors argue that in attempts to reconstruct lost historical church buildings, it is advisable not just to make drawings, hut also to produce reconstruction scale-models representing both the interiors and exteriors as accurately as possible.

As an example the reconstruction model of the lost medieval Maria Church in Utrecht is referred to, one of a series of 15 reconstruction models so far, all to a scale of 1:200, of lost or mutilated, prominent churches of Western Christianity from the Roman period to the late Middle Ages.

A corrected...

After 1945 Dutch town centers have gone through a drastic process of renovation. which has seriously affected the historical structure and the old buildings. The protection of the coherent structure of foundation, building-plots, urban spaces and buildings has not come out well in this process of change. The possibilities of the current legal instruments have not been utilized adequately.

The inventories underlying the lists of ancient monuments and historic buildings, protected views of towns and villages, zoning plans and counselling concerning building- and demolition permits...