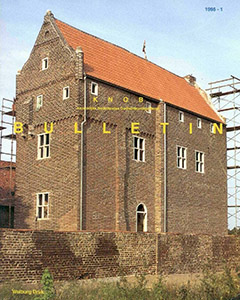 Menno Tillema, André Viersen: De Thooren te Maasniel. Charles van den Heuvel: De Architectura (1599) van Charles De Beste. Het vitruvianisme in de Nederlanden in de zestiende eeuw.
Artikelen
In the written sources there is not much to be found on the history of De Thooren Castle. For that reason it is difficult to place De Thooren in its historical and social context. From an architectural point of view the building, with exterior measurements of 6.90 by 5.75 metres and a wall thickness of 0.90 m. at cellar level, is among the smaller towers in the region.

Most residential towers have heavier walls. Very little is known about the oldest building phase, of which the walls - made of marlstone blocks - were found in the cellar. After the destruction of this building...

An unknown manuscript in the Koninklijke Bibliotheek (Royal Library) of Brussels (ms. II 7617) by the Bruges mason/bricklayer Charles De Beste: Architectura. Dat is Constelicke Bouwijnghen huijt die Antijcken Ende Modernen of 1599 forms a significant addition to our knowledge of Vitruvianism and Dutch theory of architecture in the sixteenth century.

The work is not a translation of De Architectura Libri Decem, but on the basis of sixteenth-century commentaries on Vitruvius and followers it deals with a diversity of subjects from classical and contemporary...