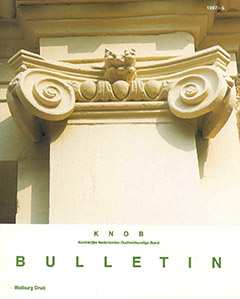 Andrew Hopkins en Arnold Witte: Van luxe architectuurtraktaat tot praktische handleiding: de Nederlandse uitgaven van Scamozzi's L'Idea della Architettura Universale. Charles van den Heuvel: Willem Goeree (1635-1711) en de ontwikkeling van een algemene architectuurtheorie in de Nederlanden. Thomas H. von der Dunk: Het stadhuis van Zaandam en het Rechthuis van Westzaan.
Artikelen
The architecture treatise 'L'ldea della Architettura Universale' first appeared in a Dutch translation in 1640, published by Cornelis Danckerts from Amsterdam. This first edition in folio format, abundantly supplied with illustrations and text, only comprised the sixth Book of the treatise, on the subject of the orders of columns.

His plan of publishing the whole treatise in a complete translation appears from the journey his son Dancker Danckerts made to Venice in 1655 to buy the original woodcuts from the heirs. However, these plans were thwarted by Symon Bosboom, stonemason by...

In his 'd'Algemene Bouwkunde' (General Architecture) of 1681 Willem Goeree rightly concluded that in The Netherlands the most general aspects of architecture had hardly been studied, unlike the five orders of architecture. His treatise is in fact the first printed treatise on architecture in the Dutch language in which an attempt was made to find a connection between architecture of classical antiquity and contemporary architecture which surpassed the usual discussions of the columns or the presentation of designs by leading architects such as Post or Vingboons.

...