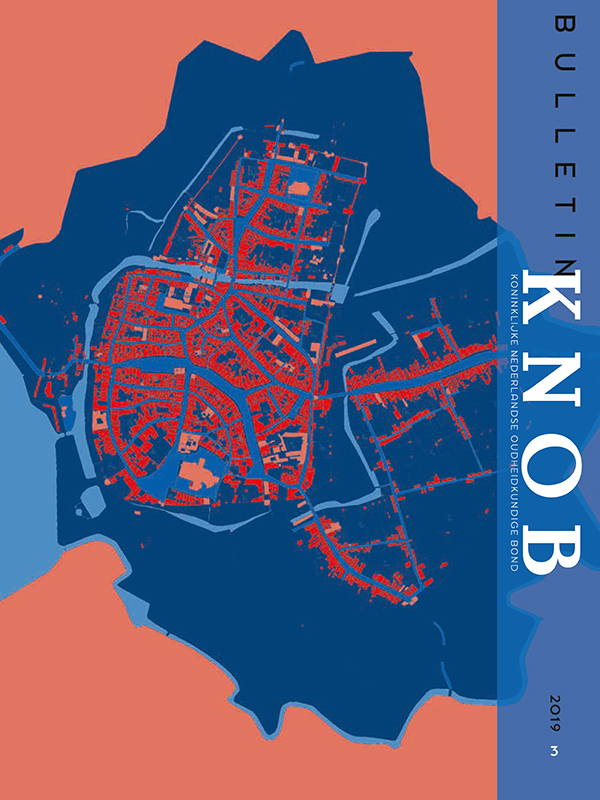 Marie-Thérèse van Thoor: Editorial Roel Griffioen: Van Bouw en Techniek naar de 8 en Opbouw. De twee tijdschriften van ondernemer J. van Creveld Paul Rem: Het tiengebodenbord in de Grote Kerk van Leerdam, een koninklijk kerksieraad Ronald Stenvert: Het bouwblok in de oude stad. Een methodische verkenning Publicaties: Jannes A. de Haan, Landhuizen en villa's in Nederland tussen 1840 en 1916 (recensie Wilfred van Leeuwen) Rob Grubben, Taco Hermans (red.), 'Zij waren van groote en zware steenen'. Recent onderzoek op het gebied van kastelen en buitenplaatsen in Nederland (recensie Jos Stöver) Lode De Clercq en Steven Van den Borne, Mercantile Marine Engineering and Graving Docks Company (recensie Ronald Stenvert)
Het nummer is ook als gedrukte uitgave online te bestellen.
Artikelen
This article focuses on Bouw en Techniek (1930-1931), a trade journal for the building industry and predecessor of the much better known de 8 en Opbouw (1932-1943), the mouthpiece of Nieuwe Bouwen (Dutch Modernism) in the Netherlands. The fact that de 8 en Opbouw had its origins in another journal was no secret; it is the reason why it began immediately with volume three, and why its cover bore the curious announcement 'included in Bouw en Techniek' until well into the 1934 volume. But exactly what kind of journal Bouw en Techniek was is difficult to...

The large, wooden panel inscribed with the Law of Moses in Leerdam's Grote Kerk is a striking example of a 'Ten Commandments panel', a common decorative element in Dutch churches after 1572, the year in which the Northern Netherlands rebelled against Spanish rule. This year also marks the switch from Roman Catholicism to Protestantism as the public religion of the young Dutch Republic. In church buildings elements associated with Catholic worship made way for large and richly decorated panels bearing biblical texts, of which the text of the Ten Commandments was by far the most popular....

Every city is defined by the sum of infrastructure and urban fabric in the form of blocks. The block is the ideal intermediate scale between the city as a whole and all the individual plots and is an important link between historical town planning and building history. The key focus of this survey was the relation between the size of the city and the number of blocks, and the nature and form of the blocks in relation to the constituent plots and their buildings. In order to study this, a method was developed whereby blocks could be systematically defined. The survey employed the oldest...
Boekbesprekingen