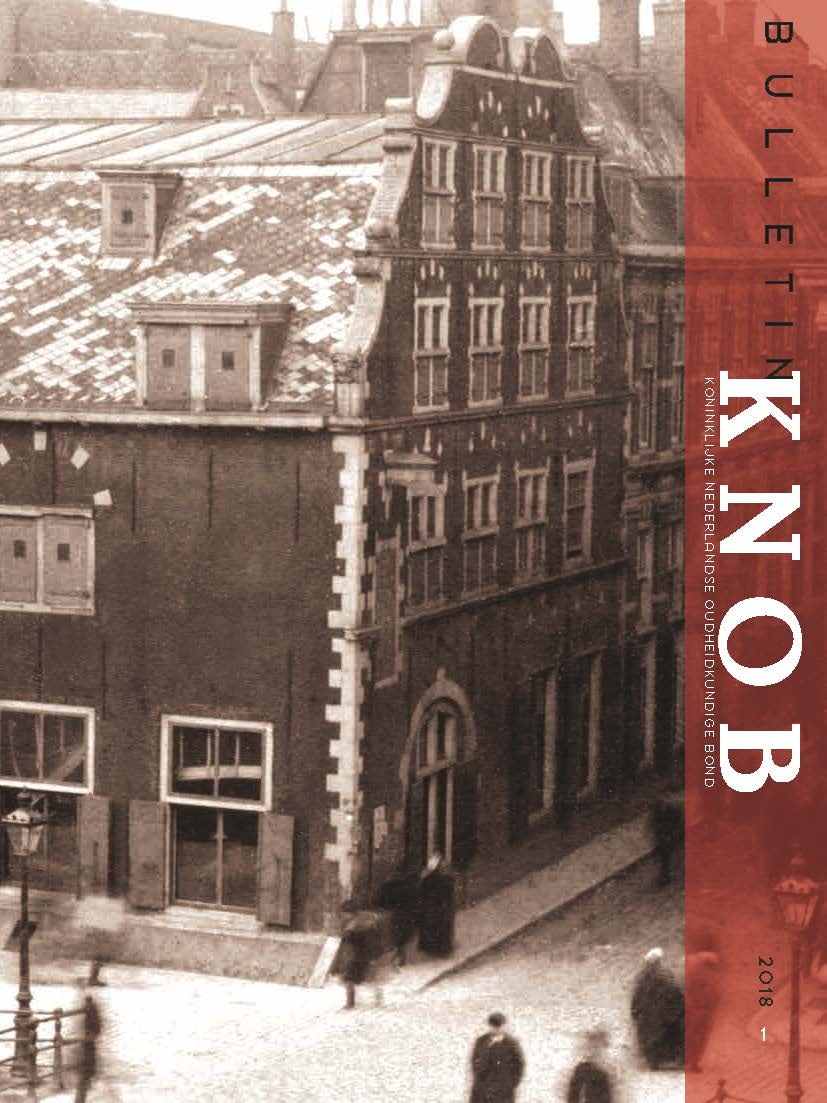 Frans Grijzenhout: Het Straatje van Vermeer: een plaatsbepaling Martijn de Jong: Monumentenzorg tijdens de bezetting. Een zoektocht naar nationaalsocialistisch restaureren in Nederland 1940-1944 Dik de Roon: Van vóór Mansart tot na mansarde. De Nederlandse gebroken kap in internationale context Publicaties Wim Denslagen, Observations on Urban Aesthetics (recensie: Vincent van Rossem), Willemijn Wilms Floet, Het hofje. Bouwsteen van de Hollandse stad 1400-2000 (recensie: Glenn Lypens), Arbeitskreis für Hausforschung, West- und mitteleuropäischer Hausbau im Wandel (recensie: Vincent Debonne)
Artikelen
In the autumn of 2015, Frans Grijzenhout published his sensational findings regarding the likely location of Johannes Vermeer's 'little street' (The Little Street). After consulting a variety of sources, including the 'The Ledger of Dredging of the Canals in the Town of Delft' from 1666–1667, he had reached the conclusion that the famous painting by Vermeer must have been based on the houses and two intervening passageways that in Vermeer's day stood on Vlamingstraat, an unassuming canal in the eastern part of Delft, where numbers 40 and 42 stand today. He had also ascertained that one...

Between 1940 and 1943, during the German Occupation, restoration activities continued unabated in the Netherlands. Existing studies have already shown that, in the context of a reorganization of cultural policy and legislation, the occupier attached great importance to heritage preservation. There was an attempt (ultimately fruitless) to introduce a national historic buildings act and the National Socialists interfered actively in reconstruction and restoration matters in the (exceptional) case of Middelburg. They also set up the Nederlandsche Kultuurkamer and the Nederlandsche...

Mansard roofs get only an occasional mention in modern Dutch works on the history of building construction. The successful spread of mansard roofs came in two waves: in the seventeenth century, with an extension into the eighteenth, and in the second half of the nineteenth century. This article deals with both periods and addresses the question of how the development of this roof type in the Netherlands compares with that in neighbouring countries, concluding with its application in private houses in Amsterdam in the second half of the nineteenth century.

Although the country of...
Boekbesprekingen