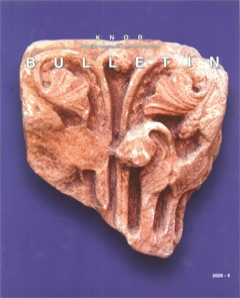 Kees van der Ploeg: Een Munsters kapiteel uit Thesinge. Wim Denslagen: Vitruviaanse historiografie. Dirk J. de Vries: Hemelse sferen: het stucplafond in de refter van de Roermondse Kartuis.
Artikelen
Some 25 years ago, a fragment of a Romanesque foliage capital came to light in Thesinge, a few miles north-east of the city of Groningen in the northern Netherlands. It must once have decorated the Benedictine nuns' abbey Germania. After the Reformation the chancel was adapted, albeit in a reduced shape, to serve as the Protestant church of Thesinge. This building can be dated to the middle of the thirteenth century. Thanks to excavations in 1973 and 1974 we know the general appearance of this church: it was more than forty metres long and had a transept. Foundations on the east side of...

In the world of Vitruvianism the study of historical architecture was completely different from what one would expect. What historiographers wanted to know had less to do with the reconstruction of a development than with reconstructing a pure beginning. All this with as a starting point the ten books on architecture written by the Roman Vitruvius in the first century BC. Writers of treatises such as Leon Battista Alberti and Sebastiano Serlio were not much interested in the history and historical development of ancient architecture, but rather in recovering the correct rules. Their...

The Carthusian monastery in Roermond, founded in 1376 and closed in 1783, is the best preserved Carthusian monastery in the Netherlands, in spite of two fires, looting, closure and partial demolition that took their toll. This article concentrates on decorations in the stucco work applied in the 18th century, at a time when this part of the Netherlands was under Austrian sovereign rule. The stucco ceiling in the refectory dates from 1748 and is divided into four richly decorated sections by (older) secondary beams. Central are the initials MAR, IHS, IOHS, referring to Mary, Jesus and...