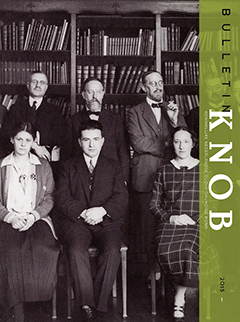 Lex Bosman: Nederlandse architectuurgeschiedenis in internationaal perspectief Ronald Stenvert: De internationale uitstraling van het Vitruvianisme. Erik Forssman en de maniëristische architectuur als betekenisdrager Lex Bosman: Nederlandse architectuurhistorici en het buitenland tot ongeveer 1960 Petra Brouwer: In de marge van de canon. Over Nederlandse architectuur in de eerste architectuurgeschiedenisboeken.
Redactioneel
Het beeld van een in oorsprong internationaal gegeven, dat geleidelijk tot een Nederlands element van zeker belang wordt, vormt het uitgangspunt voor de studies die in dit nummer van Bulletin KNOB zijn geschreven. De spanning die er in heel verschillende opvattingen heeft bestaan tussen internationale ontwikkelingen en de Nederlandse bijdragen aan zulke ontwikkelingen vormen een fascinerend gebied, waaruit voor dit nummer drie hoofdthema's zijn gekozen.
Artikelen
During the Renaissance, the printed image was an important medium in the circulation of architectural forms throughout Europe. In this process, these disseminated forms gradually changed into 'local dialects'. Modern research on these forms evolved from a purely stylistic approach to an increased focus on architects and patrons (actors) and, more recently, on art geography. Over time, less attention has been paid to the actual buildings themselves and their meaning. This article focuses on the mannerist period (1575-1625) and the work of Erik Forssman (1915-2011) in a historiographical...

The problematic relationship between, on the one hand, monographs and local and national studies and, on the other hand, general historiography is the subject of much debate nowadays. Informed by the postcolonialist theory of architecture and more recent attempts to write alternative world histories of art and architecture, the question arises how the history of architecture can provide insight into the vast diversity of our built environment. How can we develop alternatives for the stereotypical architectural canon and its persistent margins?

The present article explores the...

The foreign relations of the historiography of architecture in both the Netherlands and other countries make up an interesting field of gradually changing contacts. During the nineteenth century, the scientific discipline of art history, which included the history of architecture, emerged in Germany. And although serious interest in 'antiquities' and architectural monuments emerged in the Netherlands as well in that same period, it wasn't until 1907 that the academic study programme Art History was launched. It included the history of architecture. Historiography by and for architects...