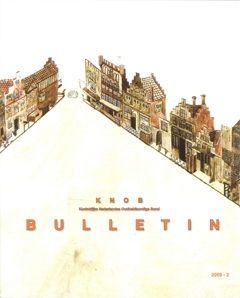 Edwin Orsel: Breestraat 95 te Leiden, een statig huis uit de vijftiende eeuw. Leo van den Burg: Zoeken naar een passend gebouw. Een reconstructie van de stedelijke inpassing van het Amsterdamse stadhuis op basis van de vroedschapsresoluties, 1639-1648. Pieter Jan Peene: Het Hof van Sint Jan te Utrecht: over het dichten van een gat.
Artikelen
Contrary to what the eighteenth-century façade leads one to suspect, building- historical research has shown that the listed building Breestraat 95 is six centuries old. In this research the original shell with large cellar, two high floors and the authentic roof construction were documented. On the basis of wood samples the house proved to have been built between 1405 and 1411.

What was special was that the original façade could be reconstructed on the basis of the building-historical research, a sixteenth-century print and bird'seye- view maps. It turns out that the house had a...

The question whether urban-planning considerations played a part in the planning process around the Amsterdam town hall in the seventeenth century has not been answered satisfactorily so far. In 1919 A. Boeken made a reconstruction of the resolutions of the Amsterdam town council, also in an attempt to explain the blending in of the building with its context. This reconstruction is still the convention, but it contains a number of incongruities, notably the somewhat oblique position of the building in relation to Dam square, so that an orthogonal plot was not possible. This is peculiar...

For centuries the immunities of the town of Utrecht were distinguished by their enclosed and remarkably spacious character. After the reformation in 1580 these territories, inhabited by canons, were gradually becoming available for building. In recent history a new building project was realized in the former territory of one of the oldest immunities, the immunity of St John: 'St John's Court' / 'Hof van Sint Jan'. This did not take place without any resistance. On the site where a neglected multi-storey car park had caused trouble for years on end, an enclosed, combined residential and...